Best's Recommended Expert Service Providers
Forensic Engineering Experts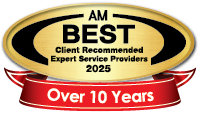 ---
Madden Accident Analysis & Forensic Engineering
Madden Forensic Engineering, Madden Accident Reconstruction
Mailing Address: 1700 West Market Street, Suite 318, Akron, OH 44313
Established: 1983
---
About Us
For over 30 years we have specialized in investigation, analysis, and reconstruction of accidents causing injury, death and property damage, and the analysis of the safety of products, equipment and facilities.

Our analyses are based on engineering principles, including mechanical engineering, engineering mechanics and chemical engineering, and include the use of:
Human Factors
Safety Design principles
Safeguarding principles
Warnings principles
Codes and Standards.
This practice includes accidents in the areas of:
Traffic, including roadway design and condition and control devices
Consumer products and industrial, commercial and construction equipment
Commercial and industrial operations and construction activities
Premises, including slips, trips and falls
Equipment and industrial fires and explosions
Hazardous combustion, including the release of combustion products leading to carbon monoxide poisoning.
---
Services Rendered
Forensic Engineering
Engineering
Consultations
Case Consultation
Testing
Accident Investigation
Accident Reconstruction
Safety Analysis
Expert Testimony
Scientific Testimony
Depositions
Arbitrations
Video Depositions
Traffic
Automobile Crashes/Collisions
Crash Investigation
Vehicular Crash Reconstruction
Highway Safety
Roadway Defects
Automobile
Trucks
Motorcycles
Recreational Vehicles
Pedestrians
Product Liability
Machinery and Equipment
Heavy Equipment
Lift Trucks/Fork Lift Trucks
Material Handling Equipment
Fire and Explosion Causation
Industrial Accidents
Industrial Safety
OSHA Regulations
Premises Liability
Slip, Trip and Fall
Building Code Compliance
Americans with Disabilities Act
Construction
Construction Safety
Construction Equipment
Human Factors
Codes and Standards Analysis
Standard and Code Compliance
Preliminary Evaluation
On-Site Investigation and Data Collection
Accident Analysis
Equipment and Facilities Analysis
Calculations
Research
Verbal and Written Reports
Trials
Traffic Accidents, including Traffic Control Devices
Consumer Products and Industrial Equipment Accident
Equipment Guarding
Design and Warnings
Chemical and Gas Accidents
Hazardous Combustion, including Carbon Monoxide Release
Commercial and Industrial Facility Design and Operations
Building and Property Safety
Construction Accidents
---
Qualifications
The work of Senior Forensic Engineer James D. Madden, P.E. in forensic engineering has included:
- Preparation of over 600 written reports
- Preparation of over 60 affidavits
- Testimony in over 90 discovery depositions
- Testimony in over 75 trials

Qualifications of James D. Madden, P.E. also include:
- Most recently, over 30 years in forensic engineering
- Previously 17 years in engineering design of equipment and facilities, industrial operations and construction assistance
- Professional Engineers license, earned by taking the National Council of Engineering Examiners examination in mechanical engineering and chemical engineering
- Designation as a Certified Diplomate Forensic Engineer by National Academy of Forensic Engineers under the auspices and guidelines of the Council of Engineering and Scientific Specialty Boards
- College degree coursework and post-degree coursework taken in mechanical engineering, chemical engineering, engineering mechanics, mathematics, physics, chemistry and normal psychology
---
Professional Memberships
Society of Automotive Engineers (SAE)
National Fire Protection Association
American Institute of Chemical Engineers
American Society of Mechanical Engineers
National Society of Professional Engineers
National Academy of Forensic Engineers
Institute of Transportation Engineers
American Society of Agricultural Engineers
International Code Council (formerly Building Officials & Code Administrators International - BOCA)
---
Service Area
Providing service nationwide.
---
Personnel Information
Owner
James D. Madden, P.E.
Honors: 

Elected to: Sigma Pi Sigma National Physics Honor Society,Tau Beta Pi National Engineering Honor Society & Sigma Xi National Research Honor Society
Recipient: National Science Foundation Grant for undergraduate research and NASA Fellowship for graduate study
Certifications:
Licensed Professional Engineer (P.E.)
Certified Diplomate Forensic Engineer by National Academy of Forensic Engineers under guidelines of the Council of Engineering and Scientific Specialty Boards
Education:
University of South Carolina, B.S.Ch.E.
University of South Carolina, M.E.
Cleveland State University
---
Additional Links
---