Best's Recommended Insurance Adjusters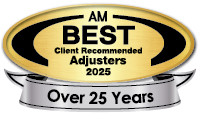 ---

Associated Adjusters Int'l.
Mailing Address: P.O. Box 357, Gulfport, MS 39502-0357
Established: 1990
Missisippi State License # 7713995
All Adjusters have Mississippi IA License and Some in Alabama
Services
General Liability
Third Party Administration
Workers' Compensation
Self-Insureds
Public Entity
Self-Insured Programs
Self-Insured Liability
Self-Insured Claims Administration
24 Hour Service
Litigation Management
Automobile
Fire and Allied Lines
Inland Marine
Bonds
Longshore and Harbor Workers
Activity Checks
Claims Administration
Claims Auditing
Jones Act
Licensed Bonded Insurance Adjusters
Liquor Liability
Loss Control
Mobile Homes
Motor Truck Cargo Losses
Motorcycles
Municipal Liability
Personal and Commercial Property
Photographs
Premises Liability
Property Loss
---
About Us
All Lines Adjusters and TPA's with specialization in casualty and workers' compensation for municipalities and the private market servicing both domestic and London clients. We also have General Adjusters for the large commercial and residential property market.

---
Professional Memberships
National Association of Independent Insurance Adjusters
Mississippi Claims Association
International Institute of Loss Adjusters, Inc.
Claims and Litigation Management Alliance
Mississippi Association of Self-Insurers
International Federation of Adjusting Association
---
Service Area
Servicing Lower Six Counties in Mississippi, Hinds County (Jackson, MS) with Several Carriers using us exclusively in the Whole State
---
Personnel Information
---
Service Areas
Picayune, Mississippi, USA 61 miles
---