Best's Recommended Expert Service Providers
Construction Consultants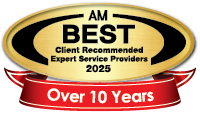 ---
Established: 1979
Qualified Member Since: 2010
California Contractors State License # 519191
---
About Us
Mike Panish is experienced in consulting with most construction issues for attorney analysis of cases and determination of validity of claim. Extensive experience working for both plaintiff and defendant based on discovery of empirical evidence derived from thorough on-site analysis. Mike Panish has been proven to provide highly credible and solid testimony during deposition and court appearances and has been influential and beneficial to the clients he has been asked to support. Over 1450 cases since the year 2000. Offices in California and New England, with service throughout the United States.
---
Services Rendered
Construction Consultants
Construction Expert Witness
Building Inspections
Photo Documentation
Blueprint Analysis
Construction Contract Analysis
Forensic Analysis
Cost Estimates
Arbitrations
Mediation
Litigation Support
Construction Defect Analysis
Product Liability
Personal Injury
Inspections
Reporting
General Construction Trades
Construction
Carpentry
Door Expert
Doors
Door Hardware
Locks
Automatic Doors
Revolving Doors
Door Closers
Door Sensors
Door Locks
Door Access Controls
Overhead Doors
Garage Doors
Gate Expert
Gates (all types)
Parking Arm Gates
Fire Doors
Windows
Cabinetry
Counter Tops
Architectural Millwork
Woodwork
Casework
Framing
Drywall
Plumbing
Electrical, Electrocution, Shock Hazard Investigation
HVAC
Tile
Design
Water Intrusion & Infiltration
Surface Protection
Walls
Roofing
Concrete, Masonry and Painting
Wood
Fine Finishes
Proper Coatings
Contractor Accountability
Construction Advocate
Construction Fraud
Real Estate and Insurance Claims
Remodeling Defects
Construction Damage Evaluation
Poor Workmanship and Neglect
Non-Permitted Work
Contract Disputes
Proper Application and Installation
ADA Compliance
Contractor Conduct and Fairness
Contract Dispute Analysis
Construction Lien
Blue Print Analysis
Courtroom Display Models & Exhibits Fabricated
Commercial Construction and Project Management (all facets) for new and remodel
Construction Consultation for Existing Construction Projects of All Kinds
Construction and Specialty services for Clean Rooms, Labs, Air Lock, Psychiatric, Acoustic, Construction, Commercial, Residential, Condominium, Industrial, Hospital, Healthcare, Hotels, Casinos, and Retail Construction & Fabrication, Cabinet Manufacturing, Cabinet Installation, Counter Tops, Countertop, Furniture, Casework, Millwork, Door, Door Hardware, Automatic Doors, Overhead Doors, Garage Doors, Parking Control Arms, Gates (all types), Access Control, Fire & Life Safety, ADA (American Disabilities Act) Installations & Applications, Adult Day Healthcare, Senior Abuse Cases in Medical Facilities, Surveillance Systems, Customary Standards and Building Practices, Jails, Courtrooms, Sally Ports, Security Restricted Areas, Retail Store Front Issues, Proper or Improper Product Usage & Placement Determination.
---
Qualifications
35+ years hands-on experience in new construction & remodel for commercial buildings. Accomplished cabinetmaker & woodworker. Owns and operates a general construction firm and has a cabinet & millwork company and a door & hardware company. Mike has a strong engineering background and MIT engineers on staff. Experienced testimony for deposition/trial for plaintiff & defendant. Regularly consults with attorneys to help evaluate & analyze cases.
---
Professional Memberships
Regularly participates in mediation/arbitration claims; Public speaking - Lectures on Construction Trade Disputes & Seminars for Experts.
---
Service Area
Offices in Los Angeles, California, Boston, Massachusetts and New Hampshire. Available for nationwide consulting, expert witness assignments, site inspections, and cost analysis.
---
Personnel Information
Michael Panish
Construction Expert Witness, Consultant & Forensic Analyst
An exceptional, highly skilled, precise and effective consultant with 35+ years hands-on experience in the field of construction (all trades). Unique to the insurance industry. Your most valuable resource to resolve your claims and your best source for accurate, concise information. Licenses: General Bldg., Electrical, Cabinetry/Millwork, Door/Lock/Security, Paint & Finish.
---
Articles
EXPERT WITNESS - Plaintiff or Defense? by Michael Panish
Panic Hardware - Getting to Know the Basics by Michael Panish
Door Injury Cases Pertaining to the Insurance Carrier by Michael Panish
The Ins & Outs of Automatic Door Operation by Michael Panish
Automatic Doors - The Importance of Checking your Doors Daily by Michael Panish
Door Defects & Door Related Injury Claims by Michael Panish
Manual Door Closers - Do you have an Open Shut Case? by Michael Panish
Garage Doors - A Brief Tutorial on Garage Doors Safety & Installation by Michael Panish
Elder Abuse - It isn't always about Physical Abuse by Michael Panish
CABINETRY & MILLWORK Defective Design or Defective Workmanship? Who is responsible? by Michael Panish
Discussion on Wood Finishes by Michael Panish
Safety Equipment & Protective Gear - The Right Equipment Can Save your Life! by Michael Panish
Mechanical Fasteners by Michael Panish
HOTEL ROOM - BARN DOORS DANGEROUS BY DESIGN BEST LEFT ON BARNS by Michael Panish
THE UPS AND DOWNS OF PARKING LOT CONTROL ARMS by Michael Panish
OVERHEAD DOOR INJURIES - Commercial, Industrial, Residential, Trucks by Michael Panish
COMMERCIAL OVERHEAD DOORS - Worker Injury Claims by Michael Panish
---
Additional Links
Listen to Michael Panish's, podcast on the importance of the selection of expert witnesses in insurance cases.
---
Over 1450 cases since the year 2000 representing Plaintiff, Defense, and Co-Defense.
---