Best's Recommended Expert Service Providers
Disaster Restoration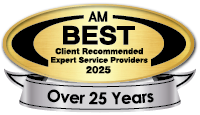 ---

---
About Us
With our demanding standards for excellence, The Fine Arts Conservancy has been awarded coveted positions with other major insurance carriers as preferred service providers. As these carriers are considered premier global insurers of fine art, their professional recommendation to their clients is a measurable demonstration of their confidence in and high regard for The Fine Arts Conservancy.

Our firm can provide you with the finest in evaluation, conservation and restoration of paintings, antique furniture, antique decorative arts, and other special services for fast emergency response & disaster recovery.
---
Services Rendered
Art Restorations
Art Conservation
Litigation Support
Expert Testimony
Appraisals
Valuations
Fine Art
Fire, Flood and Explosion Loss Recovery
Specialists in Surveys and Evaluation
PAINTINGS CONSERVATION
- Contemporary and Modern Paintings
- American Paintings, 17th - 20th Century
- European Paintings, 14th - 20th Century
- Latin American Paintings, 16th - 20th Century
- Persian and Indian Paintings
- Oriental and Far Eastern Scrolls, Screens and Paintings
OBJECTS AND SCULPTURE CONSERVATION
- Media: Wood, Bone and Ivory, Stone, Ceramics and Porcelain, Gold and Silver, Bronze and Copper, Aluminum, Steel and Iron, et al.
- Areas: American and European; Contemporary and Modern; Outdoor sculpture, African, Oceanic, American Indian and Pre-Columbian, Roman, Greek, Egyptian, Near Eastern and Islamic Antiquities; Art Noveau and Art Deco; Chinese, Japanese, Korean, Indian and Southeast Asian
PAPER, PHOTOGRAPHS AND RARE DOCUMENTS CONSERVATION
- Drawings, Watercolors and Pastels
- Etchings and Engravings
- Prints and Lithographs
- Areas: Contemporary and Modern, Old Master, American, European and Latin American, Chinese, Japanese, Indian and Southeast Asian
FURNITURE, ANTIQUES & DECORATIVE ARTS CONSERVATION
- American
- French
- English and Continental
- Spanish
- Italian and Latin American
- Art Nouveau and Art Deco
- Chinese, Japanese and Korean
SCIENTIFIC ANALYSIS
- Microscopic Analysis
- Thermoluminesence Analysis
- X-ray
- Spectrography
- Infra-Red
- Ultraviolet
- Sodium Monocromatic
- Carbon 14 Dating
- Micro-Chemical Analysis
---
Professional Memberships
American Institute of Conservation
Getty Conservation Network
Canadian Conservation Institute
International Institute of Conservation
United Kingdom Conservation Institute
---
Service Area
Servicing North America, Europe, Latin America, Asia and Africa
---
Personnel Information
Senior Officers
Laney Dunn, B.F.A.
Managing Director and President
---
Gordon A. Lewis, Jr., B.A.
Senior Director and Vice President
---
Additional Links
Insurance Services - Slide Presentation
---
(This firm also appears in the Art, Antique & Jewelry Specialists section of this publication)
---