Cook, Kurtz & Murphy, P.C.
Best's Recommended Insurance Attorneys - General Defense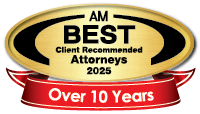 ---
Mailing Address: P.O. Box 3939, Kingston, NY 12402
Established: 1905
Practice Areas
Business Transactions
Civil Litigation
Construction Accidents
Motor Vehicle
Municipal Law
Personal Injury
Premises Liability
Product Liability
Professional Liability
Public Entities
Real Estate
Sexual Harassment
State and Federal Courts
Title Insurance
Federal Civil Rights
---
About Us
Our firm is exceptionally experienced in trial law and approximately 80% of our practice involves civil trial work throughout the Hudson Valley and upstate New York. Our central location and familiarity with the local venues has permitted us to provide legal services to our clients throughout the Hudson Valley and New York State with a keen personal knowledge of local juries and adversaries, enabling us to obtain prompt resolution of legal matters.
---
Client Information
Insurance Clients
CCMSI
Gallagher Bassett Services, Inc.
Network Adjusters, Inc.
Tokio Marine HCC - Public Risk Group
Trident Insurance
Ulster County Insurance Department
Non-Insurance Clients
Central Hudson Gas and Electric Corp.
---
Personnel Information
Retired

Robert D. Cook
Kingston, NY
Admitted
New York, 1978
U.S. District Court, Northern District of New York
U.S. District Court, Southern District of New York, 1994
U.S. Court of Appeals, Second Circuit
U.S. District Court, Eastern District of New York, 2012
Memberships:
New York State and Ulster County Bar Associations
Defense Research Institute
Education:
College of the Holy Cross, B.A., 1974
Albany Law School of Union University, J.D., 1977
Born: 1952
---
Firm Members

Eric M. Kurtz
Kingston, NY
Admitted
New York, 1986
U.S. District Court, Northern District of New York
U.S. District Court, Southern District of New York, 1999
U.S. Court of Appeals, Second Circuit, 2012
U.S. Supreme Court, 2015
Memberships:
New York State and Ulster County Bar Associations
Defense Research Institute
Education:
State University of New York at Albany, B.A. (cum laude), 1982
University at Buffalo Law School, J.D., 1985
Born: 1960
---

Thomas A. Murphy
Kingston, NY
Admitted
Memberships:
New York State and Ulster County Bar Associations
Education:
Siena College, B.A. (cum laude), 1982
Gonzaga University School of Law, J.D., 1986
Born: 1960
---

Michael T. Cook
Kingston, NY
Admitted
New York, 1999
U.S. District Court, Northern District of New York, 2004
U.S. District Court, Southern District of New York, 2010
U.S. Court of Appeals, Second Circuit, 2017
Memberships:
New York State and Ulster County Bar Associations
Defense Research Institute
Education:
St. Bonaventure University, B.A., 1995
Albany Law School of Union University, J.D., 1998
Born: 1971
---
Associate Attorney

John C. Burns
Kingston, NY
Admitted
New York, 2018
U.S. District Court, Northern and Southern Districts of New York, 2021
Memberships:
American, New York State and Ulster County Bar Associations
Education:
Hartwick College, B.A., Political Science and History (magna cum laude), 2014
State University of New York at Buffalo Law School, J.D., 2017
Born: 1992
---
Service Areas
Albany, New York, USA 55 miles
Newburgh, New York, USA 39 miles
Poughkeepsie, New York, USA 21 miles
White Plains, New York, USA 88 miles
---

---
Contact Our Team | About Best's Insurance Professional Resources | FAQs | Qualification Guidelines | Important Notice