Mulvey, Oliver, Gould & Crotta
Best's Recommended Insurance Attorneys - General Defense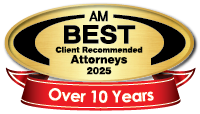 ---
Practice Areas
Insurance Defense
Litigation
Negligence
Probate
Product Liability
Trial and Appellate Practice
Workers' Compensation
---
Client Information
Insurance Clients
Non-Insurance Clients
Avizent
CJW & Associates
Fitzpatrick & Hunt, Tucker, Collier, Pagano, Aubert, LLP
Paul C. Higgins, Inc.
Lowe's Companies, Inc.
---
Personnel Information
Partners
Robert G. Oliver
Hamden, CT
Years of Experience: 50
Practice Areas
Trial Practice
State and Federal Courts
Civil Litigation
Appeals
Admitted
Connecticut, 1965
U.S. District Court, District of Connecticut, 1971
U.S. Court of Appeals, Second Circuit, 1974
U.S. Supreme Court
U.S. Court of Military Appeals
Additional Biographical Details:
Federal Grievance Committee for the District of Connecticut (Member, 1997-2003; Chair, 2000-2003)
Memberships:
Connecticut (House of Delegates, 1975-1978; Federal Practice Committee, Federal Judicial Committee, 1993-1995) and New Haven (President, 1979-1990) Bar Associations
Retired Navy and Marine Corps Judge Advocates Association
Naval Reserve Association
Military Officers Association
Connecticut Defense Lawyers Association
Education:
Yale University, B.A. (magna cum laude), 1962
Yale Law School, LL.B., 1965
Military:
Captain, Judge Advocate General's Corps, U.S.N.R. (Retired)
Born: 1940
---
David J. Crotta, Jr.
Hamden, CT
Practice Areas
Trial Practice
Negligence
Commercial Litigation
Civil Litigation
Appeals
Probate
Admitted
Connecticut, 1988
U.S. District Court, District of Connecticut, 1989
U.S. Court of Appeals, Second Circuit, 1992
U.S. Supreme Court, 1998
Additional Biographical Details:
Arbitrator, Connecticut Superior Court (2002-Present); Member, Superior Court Committee on Expedited Litigation; 2015-2016; Member, Civil Commission (2016-2017); Member, Grievance Panel, Ansonia-Milford Judicial District (2004-2010); Dominican Foundation (Founding Member; Board of Directors, 2004-Present; President, 2012-2016); Community Soup Kitchen (Board of Directors, 2008-Present; President 2012-2015); St. Martin de Porres School (Board of Directors, 2020-Present); St. Mary Parish Corporation (Trustee, 2008-present)
Memberships:
Connecticut (Professional Ethics Committee, 1993-Present) and New Haven County Bar Associations
Fellow, Connecticut Bar Foundation
Connecticut Defense Lawyers Association
Education:
Fairfield University, A.B. (cum laude), 1982
University of Connecticut School of Law, J.D., 1988
Honors:
Phi Alpha Theta; Milton Horwitz Memorial Award in Torts; American Jurisprudence Award in Torts
Born: 1960
---
James M. Hyland
Hamden, CT
Years of Experience: 30
Practice Areas
Insurance Defense
Trial Practice
Workers' Compensation
Product Liability Defense
Civil Litigation
Estate Administration
Collections
Lead Paint Litigation
Admitted
Connecticut, 1990
New York, 1991
U.S. District Court, Eastern and Southern Districts of New York, 1992
U.S. District Court, District of Connecticut, 1993
U.S. Supreme Court, 2015
Memberships:
Connecticut, New Haven County and Bridgeport Bar Associations
Defense Research Institute
Connecticut Defense Lawyers Association
Education:
Boston College, A.B., 1984
Brooklyn Law School, J.D., 1990
Honors:
American Jurisprudence Award (Estate Administration)
Born: 1962
---
Francis J. Drumm, III
Hamden, CT
Practice Areas
Trial Practice
Negligence
Civil Litigation
Workers' Compensation
Admitted
Connecticut, 2000
U.S. District Court, District of Connecticut, 2003
Memberships:
Connecticut and New Haven County Bar Associations
Connecticut Defense Lawyers Association
Education:
University of Connecticut, B.A., 1992
Western New England College School of Law, J.D., 2000
Born: 1970
---
James D. Hine, II
Hamden, CT
Practice Areas
Insurance Defense
Civil Litigation
Commercial Litigation
Negligence
Trial Practice
Admitted
Connecticut, 2002
U.S. District Court, District of Connecticut, 2004
Memberships:
Connecticut and New Haven Bar Associations
Education:
University of Connecticut, B.A., 1998
The Pennsylvania State University Dickinson School of Law, J.D., 2001
Born: 1975
---
Maureen E. Burns
Hamden, CT
Years of Experience: 37
Practice Areas
Insurance Defense
Trial Practice
Product Liability Defense
Civil Defense
Civil Litigation
Lead Paint Litigation
Utility Litigation
Admitted
Connecticut, 1983
U.S. District Court, District of Connecticut, 1984
U.S. Court of Appeals, Second Circuit, 1985
Memberships:
Connecticut and New Haven County Bar Associations
Connecticut Defense Lawyers Association
Defense Research Institute
Education:
Albertus Magnus College, B.A., 1890
Western New England College School of Law, J.D., 1983
Born: 1958
---
Associate Attorney
John Ranges
Hamden, CT
Practice Areas
Civil Litigation
Insurance Defense
Negligence
Trial Practice
Admitted
Memberships:
Connecticut, New Haven County and Milford Bar Associations
Connecticut Defense Lawyers Association
Education:
University of Connecticut, B.A., 2008
New England School of Law, J.D., 2013
---

---
Contact Our Team | About Best's Insurance Professional Resources | FAQs | Qualification Guidelines | Important Notice