Best's Recommended Insurance Attorneys
General Defense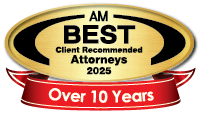 ---
Tucker Robin & Merker LLC
Established: 2001
Practice Areas
Insurance Defense
Trial Practice
Medical Malpractice
Professional Liability
Property Liability
General Liability
Insurance Coverage
Product Liability
Workers' Compensation
Construction Litigation
Business Litigation
Commercial Litigation
Directors and Officers Liability
Professional Negligence
Transportation Liability
Employment Liability
---
About Us
The firm of Tucker Robin & Merker, LLC was established in 2001 by founding partners who then averaged more than 15 years experience each. We are engaged in a diverse practice focused on insurance law and litigation. We provide both claims defense and litigation coverage disputes. The firm is dedicated to providing the highest quality legal services in a cost-efficient manner.
---
Client Information
Insurance Clients
AAA Member Select Insurance Company
Berkley Specialty Underwriting Managers, LLC
Broadspire
Federated Insurance Company
Hertz Claim Management
K & K Insurance Group, Inc.
VeriClaim, Inc.
Western Litigation Specialists, Inc.
Non-Insurance Clients
Founders Bank
The Habitat Company
InterPark, Inc.
National Express Corp.
Ravenswood Disposal Service, Inc.
SAIA Motor Freight Line, Inc.
Yellow Freight System
---
Personnel Information
Partners
Creed T. Tucker
Chicago, IL
Years of Experience: 33
Practice Areas
Insurance Defense
Civil Trial Practice
Insurance Coverage
Admitted
Illinois, 1985
U.S. District Court, Northern District of Illinois including Trial Bar, 1993
Memberships:
Illinois Association of Defense Trial Counsel
Education:
University of Illinois, A.B. (with distinction), 1982
Northern Illinois University, J.D., 1985
---
Timothy G. Merker
Chicago, IL
Years of Experience: 28
Practice Areas
Medical Malpractice
Professional Liability
Product Liability
Insurance Defense
Civil Litigation
Admitted
Michigan, 1984
Illinois, 1990
U.S. District Court, Eastern District of Michigan, 1984
U.S. District Court, Northern District of Illinois, 1991
U.S. Court of Appeals, Seventh Circuit, 1994
Memberships:
Illinois State and Chicago Bar Associations
Education:
University of Dayton, B.A. (magna cum laude), 1981
University of Notre Dame Law School, J.D., 1984
---
Associate
Peter H. Rodenburg
Chicago, IL
Years of Experience: 20
Practice Areas
Construction Litigation
Insurance Defense
Insurance Coverage
Workers' Compensation
Contracts
Admitted
Illinois, 1998
U.S. District Court, Northern District of Illinois, 1998
Memberships:
Illinois State Bar Association
Education:
University of Illinois, B.B.S., 1986
Loyola University Chicago School of Law, J.D., 1998
---
Of Counsel
Randall E. Server
Chicago, IL
Years of Experience: 42
Practice Areas
Business Law
Commercial Litigation
Class Actions
Insurance Defense
Admitted
Illinois, 1976
U.S. District Court, Northern District of Illinois including Trial Bar, 1977
U.S. Court of Appeals, Seventh Circuit, 1977
U.S. District Court, Central District of Illinois, 2001
Additional Biographical Details:
Arbitration Panelist, Circuit Court of Cook County
Memberships:
Illinois State and Chicago Bar Associations
Education:
Princeton University, A.B. (cum laude), 1973
Northwestern University, J.D., 1976
---
Jessica B. Tucker
Chicago, IL
Years of Experience: 32
Practice Areas
Appeals
Civil Defense
Workers' Compensation
Admitted
Michigan, 1985
Illinois, 1986
Colorado, 1986
U.S. District Court, Eastern District of Michigan, 1985
U.S. District Court, Northern District of Illinois, 1986
U.S. Court of Appeals, Seventh Circuit, 1993
Additional Biographical Details:
Arbitration Panelist, Circuit Court of Cook County; Village of Winnetka (Trustee, 2004-2008; President, 2009-2013)
Memberships:
Appellate Lawyers Association of Illinois
Workers' Compensation Lawyers Association
Education:
University of Michigan, B.B.A., 1981
Thomas M. Cooley Law School, J.D., 1985
---

---
Contact Our Team | About Best's Insurance Professional Resources | FAQs | Qualification Guidelines | Important Notice