Hanna & Plaut, L.L.P.
Best's Recommended Insurance Attorneys - General Defense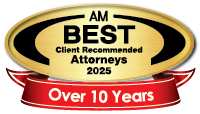 ---
Established: 1998
Practice Areas
Insurance Law
Insurance Coverage
Bad Faith
Insurance Defense
Workers' Compensation
Examinations Under Oath
Tort Litigation
---
About Us
Hanna & Plaut, L.L.P. formed in February, 1998. Our practice includes insurance coverage and insurance "bad faith" litigation and workers' compensation matters, as well as general commercial litigation, at both the trial and appellate levels throughout the state. Although Hanna & Plaut is a full-service law firm, our primary focus is insurance. At Hanna & Plaut we believe an important component of our success is in our responsiveness to the questions and concerns of our clients. Hanna & Plaut's attorneys are well-versed in all areas of insurance coverage and provide coverage opinions for all different types of policies. Hanna & Plaut also provides advice at the claims handling level as well as aggressive defense in litigation. Hanna & Plaut provides seminars on various coverage and claims handling issues as a service to its clients.
---
Client Information
Insurance Clients
Bituminous Casualty Corporation
Bituminous Insurance Company
Broadspire
Health Administration Services
Heartland Lloyds Insurance Company
Houston ISD
---
Personnel Information
Partners

Catherine L. Hanna
Austin, TX
Admitted
California, 1988
Texas, 1991
U.S. Court of Appeals, Ninth Circuit, 1988
U.S. District Court, Southern and Western Districts of Texas, 1991
U.S. District Court, Northern District of Texas, 1999
Memberships:
American and Travis County Bar Associations
State Bars of California and Texas
Travis County Women Lawyers Association
Austin Young Lawyers Association
Texas Bar Foundation
Education:
Texas Tech University, B.A., 1984
Stanford University, J.D., 1988
Born: 1963
---

David L. Plaut
Austin, TX
Admitted
Texas, 1990
U.S. District Court, Eastern, Northern, Southern and Western Districts of Texas, 1990
U.S. Court of Appeals, Fifth Circuit, 1990
Memberships:
State Bar of Texas
Travis County Bar Association
Education:
Johns Hopkins University, B.A. (with honors), 1985
The University of Texas, J.D., 1989
Born: 1963
---

Robert F. Josey
Austin, TX
Admitted
Memberships:
State Bar of Texas
College of the State Bar of Texas
Certifications:
Board Certified, Workers' Compensation Law, Texas Board of Legal Specialization
Education:
Baylor University, B.A., 1995
The University of Texas School of Law, J.D., 1995
Born: 1969
---
Associates

Jeff Glass
Austin, TX
Admitted
Texas, 1985
U.S. Court of Appeals, Fifth Circuit, 1985
Memberships:
Education:
Abilene Christian University, B.A. (with highest honors), 1980
The University of Texas, J.D. (with honors), 1984
Born: 1958
---

Sheila S. Tan
Austin, TX
Admitted
Education:
Boston University, B.A., 2007
Baylor Law School, J.D., 2012
Born: 1985
---

Lauren L. Burgess
Austin, TX
Admitted
Texas, 2012
U.S. District Court, Eastern, Northern, Southern and Western Districts of Texas
Memberships:
Austin Bar Association
Travis County Women Lawyers Association
Texas Association of Defense Counsel
Defense Research Institute
Education:
The University of Tennessee Knoxville, B.A. (summa cum laude), 2008
Baylor Law School, J.D., 2012
Language:
---

Karla Y. Huertas
Austin, TX
Admitted
Memberships:
Education:
Florida International University, B.A., 2006
University of Miami, J.D., 2011
Born: 1984
---

Erin K. Holmes
Austin, TX
Admitted
Additional Biographical Details:
Texas Super Lawyers Rising Star (2014, 2017)
Memberships:
State Bar of Texas
Austin Bar Association
Travis County Women Lawyers' Association
Education:
University of Wisconsin-Madison, B.A., 1998
University of Wisconsin Law School, J.D., 2002
Born: 1977
---

Ana P. Navarrete
Austin, TX
Admitted
Memberships:
State Bar of Texas
Hispanic Bar Association of Austin
Austin Bar Association
Austin Young Lawyers Association
Education:
Texas Tech University, B.A., 2015
Texas Tech University, M.B.A., 2018
Texas Tech University School of Law, J.D., 2018
Born: 1992
---
Of Counsel

Eric S. Peabody
Austin, TX
Admitted
Texas, 1994
U.S. District Court, Southern and Western Districts of Texas
Memberships:
State Bar of Texas
Travis County Bar Association
Education:
Eastern Michigan University, B.A. (cum laude), 1985
The University of Texas, J.D. (with honors), 1993
Language:
Born: 1961
---
Service Areas
Houston, Texas, USA 162 miles
San Antonio, Texas, USA 79 miles
---

---
Contact Our Team | About Best's Insurance Professional Resources | FAQs | Qualification Guidelines | Important Notice