Hodge & James
Best's Recommended Insurance Attorneys - General Defense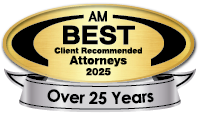 ---
Mailing Address: P.O. Box 534329, Harlingen, TX 78553
Established: 1994
Practice Areas
Insurance Defense
Automobile
General Liability
Product Liability
Casualty
Personal Injury
Professional Liability
Medical Malpractice
Premises Liability
Nursing Home Liability
Governmental Liability
Tort Liability
Legal Malpractice
Construction Defect
Trucking Litigation
Multiple Party/Multiple Issues Tort Cases
---
About Us
The Law Firm of Hodge & James, LLP was founded January 1, 1995 by Bruce W. Hodge, former partner in Johnson & Davis, and Anthony B. James, former partner in Willette & James and Thornton & Summers. The firm defends civil lawsuits throughout the South Texas area, including Bexar, Harris, Nueces, Duvall, Brooks, Willacy, Webb, Hidalgo, Starr, Cameron, Zapata, Jim Wells, Maverick and Dimmit Counties. Mr. Hodge and Mr. James have been trying civil lawsuits through out South Texas since 1983. Mr. James has tried in excess of 150 cases to a verdict.
---
Client Information
Insurance Clients
Bituminous Insurance Company
Commercial America Insurance Company
Effective Claims Management, Inc.
Federated Insurance Companies
Lindsay General Insurance Agency
Non-Insurance Clients
Sedgwick Claims Management Services, Inc.
SUPERVALU, Inc.
---
Personnel Information
Shareholder
Anthony B. James
Harlingen, TX
Admitted
Texas, 1983
U.S. District Court, Southern District of Texas, 1984
U.S. Court of Appeals, Fifth Circuit, 1984
Additional Biographical Details:
Speaker: State Bar of Texas, Seminar on Insurance Litigation; Rio Grand Valley Independent Claims Adjusters Association Annual Conference, 1995; AV Preeminent Rated, Martindale-Hubbell
Memberships:
American, Cameron County and Hidalgo County Bar Associations
State Bar of Texas
Fellow, Texas Bar Foundation, 1998
Texas Association of Defense Counsel
Defense Research Institute
Education:
The University of Texas-Pan American, B.A., 1980
University of Houston, J.D., 1983
Language:
Born: 1958
---
Of Counsel
Lisa M. Ellis
Harlingen, TX
Admitted
Texas, 1991
U.S. District Court, Southern District of Texas, 1992
Memberships:
State Bar of Texas
Cameron and Hidalgo County Bar Associations
Education:
Austin College, B.A., 1988
Texas Tech University, J.D., 1991
Born: 1965
---
Bruce W. Hodge
Harlingen, TX
Admitted
Texas, 1983
U.S. District Court, Southern District of Texas, 1983
Memberships:
State Bar of Texas
Cameron County Bar Association
Texas Association of Defense Counsel
Publications:
Co-Author: "To Buy Or Not To Buy Workers' Compensation-That Is The Question," Agricultural Law Seminar, 1994
Education:
East Texas State University, B.M., 1980
Texas Tech University School of Law, J.D. (with honors), 1983
Fraternity Information:
Delta Theta Phi
Born: 1951
---
Associates
Krista E. Guiter
Harlingen, TX
Admitted
Memberships:
State Bar of Texas
Cameron County and Hidalgo County Bar Associations
Education:
The University of Texas at Brownsville, B.A. (summa cum laude), 2002
University of Houston Law Center, J.D. (cum laude), 2005
---
Marco A. Jilpas
Harlingen, TX
Admitted
Education:
Pan American University, B.A., 2006
University of Houston, J.D., 2010
Born: 1985
---
Bryan D. Nichols
Harlingen, TX
Admitted
Memberships:
Cameron County and Hidalgo County Bar Associations
Cameron County Young Lawyers Association
Houston Young Lawyers Association
Education:
Baylor University, B.A., 2000
The University of Texas School of Law, J.D., 2003
Born: 1978
---
Service Areas
Brownsville, Texas, USA 26 miles
Edinburg, Texas, USA 40 miles
McAllen, Texas, USA 32 miles
---

---
Contact Our Team | About Best's Insurance Professional Resources | FAQs | Qualification Guidelines | Important Notice