Best's Recommended Insurance Attorneys
General Defense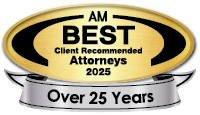 ---

Established: 1984
Practice Areas
Appellate Practice
Civil Rights
Commercial Litigation
Complex Litigation
Construction Law
Directors and Officers Liability
General Liability
Government Investigations and Enforcement
Health Care
Immigration Law
Insurance Coverage
Labor and Employment
Product Liability
Professional Liability
Religious Institutions
Retailers and Chain Restaurant Litigation
Risk Management
Toxic Torts
Mass Tort
Trust and Estate Litigation
---
About Us
Carr Maloney PC is a business and litigation law firm with a diverse client base including national, regional and local businesses. With decades of experience, our attorneys deliver comprehensive legal advice and representation for the most challenging legal issues. Established in 1984, Carr Maloney serves the mid- Atlantic region with offices in Washington D.C., Maryland, Virginia, and West Virginia. For more information, please visit www.carrmaloney.com.


---
Additional Locations
Baltimore, Maryland
Inner Harbor Center
400 East Pratt Street, Suite 800
Baltimore, Maryland 21202
Rockville, Maryland
33 Wood Lane
Rockville, Maryland 20850
Vienna, Virginia
Tycon Towers
8000 Towers Crescent Drive, Suite 1350
Vienna, Virginia 22182
Martinsburg, West Virginia
126 East Burke Street
Martinsburg, West Virginia 25401
---
Client Information
Insurance Clients
CAMICO Insurance Services
Catholic Mutual Group
Endurance Services, Ltd.
Gallagher Bassett Services, Inc.
Hartford Products
Liberty International Underwriters
Monitor Liability Managers, LLC
Navigators
Resolute Management, Inc.
Vela Insurance Services, LLC
Zurich North America
Non-Insurance Clients
A.M.E. Zion Church
Archdiocese of Washington
Association of Financial Planners
BMW of North America, Inc.
Certified Financial Planner Board of Standards, Inc.
Invacare Corporation
Macy's
Marriott International, Inc.
Overhead Door Corporation
---
Personnel Information
Firm Members

Paul J. Maloney
Washington, DC
Practice Areas
Professional Malpractice
Complex Litigation
Commercial Litigation
Product Liability
Admitted
District of Columbia, 1982
Maryland
U.S. District Court for the District of Columbia and District of Maryland
U.S. Court of Appeals for the District of Columbia and Fourth Circuits
U.S. Supreme Court
Education:
Washington and Lee University, B.A. (cum laude), 1976
The Catholic University of America, Columbus School of Law, J.D., 1981
---

Thomas L. McCally
Washington, DC
Practice Areas
Labor and Employment
Discrimination
Wrongful Termination
Religious Institutions
Civil Rights
Commercial Litigation
Admitted
Maryland, 1985
Georgia (Inactive)
District of Columbia
U.S. District Court for the District of Columbia and District of Maryland
U.S. Court of Appeals for the Federal, District of Columbia and Fourth Circuits
U.S. Supreme Court
Education:
University of Delaware, B.A., 1981
Emory University School of Law, J.D., 1984
---

Kevin M. Murphy
Washington, DC
Practice Areas
Professional Malpractice
Trust and Estate Litigation
Commercial Litigation
Directors and Officers Liability
Construction
Admitted
Maryland, 1985
District of Columbia
U.S. District Court for the District of Columbia and District of Maryland
U.S. Court of Appeals for the District of Columbia and Fourth Circuits
U.S. Supreme Court
Education:
University of Notre Dame, B.B.A., 1981
The Catholic University of America, Columbus School of Law, J.D., 1984
---

Jan E. Simonsen
Washington, DC
Practice Areas
Professional Malpractice
Toxic Torts
Mass Tort
Retailers and Chain Restaurant Litigation
Risk Management
Complex Litigation
Admitted
Virginia, 1988
District of Columbia
U.S. District Court for the District of Columbia and District of Maryland
U.S. District Court, Eastern District of Virginia
U.S. Court of Appeals for the District of Columbia Circuit
Education:
Northeastern University, B.S., 1984
Vermont Law School, J.D., 1988
---

Matthew D. Berkowitz
Washington, DC
Practice Areas
Appellate Practice
Complex Litigation
Admitted
Virginia, 2006
District of Columbia
Maryland
U.S. District Court for the District of Columbia and Eastern and Western Districts of Virginia
U.S. District Court, District of Maryland
U.S. Bankruptcy Court, Eastern District of Virginia
U.S. Court of Appeals for the District of Columbia, Third and Fourth Circuits
U.S. Supreme Court
Education:
The George Washington University, B.B.A., 1997
Thomas Jefferson School of Law, J.D. (summa cum laude), 2006
---

Mariana D. Bravo
Washington, DC
Practice Areas
General Liability
Professional Malpractice
Construction Law
Admitted
Virginia, 2001
District of Columbia
U.S. District Court for the District of Columbia and Eastern and Western Districts of Virginia
U.S. District Court, District of Maryland
U.S. Court of Appeals for the District of Columbia Circuit
Education:
Marymount University, B.S., 1990
University of Baltimore School of Law, J.D., 2000
---

Nat P. Calamis
Washington, DC
Practice Areas
Labor and Employment
Business Law
Commercial Litigation
Cyber Liability
Directors and Officers Liability
Professional Liability
Admitted
Maryland, 2005
District of Columbia
Virginia
U.S. District Court for the District of Columbia and District of Maryland
U.S. Court of Appeals, Fourth Circuit
Education:
Boston College, B.A., 2001
The Catholic University of America, Columbus School of Law, J.D., 2005
---

Tina M. Maiolo
Washington, DC
Practice Areas
Labor and Employment
Immigration Law
Civil Rights
Business Law
Commercial Litigation
Directors and Officers Liability
Appellate Practice
Discrimination
Admitted
District of Columbia, 1997
Maryland
Virginia
U.S. District Court for the District of Columbia and Eastern District of Virginia
U.S. Court of Appeals for the District of Columbia and Fourth Circuits
U.S. Supreme Court
Education:
College of William & Mary, B.A. (cum laude), 1993
College of William & Mary, Marshall-Wythe School of Law, J.D., 1996
---
Dennis J. Quinn
Washington, DC
Practice Areas
Commercial Litigation
Product Liability
Professional Liability
Admitted
Virginia, 1997
District of Columbia
Pennsylvania (Inactive)
U.S. District Court, District of Maryland
U.S. District Court for the District of Columbia and Eastern District of Virginia
U.S. Court of Appeals for the District of Columbia and Fourth Circuits
Education:
Montclair State University, B.A. (cum laude), 1985
The George Washington University Law School, J.D., 1988
---

Kenneth J. Stallard
Washington, DC
Practice Areas
Toxic Torts
Mass Tort
Product Liability
Complex Litigation
Professional Liability
Trust and Estate Litigation
Construction
Admitted
District of Columbia, 1989
Virginia
West Virginia
U.S. District Court for the District of Columbia and District of Maryland
U.S. District Court, Eastern and Western Districts of Virginia
U.S. District Court, Northern and Southern Districts of West Virginia
U.S. Court of Appeals for the District of Columbia and Fourth Circuits
Education:
Virginia Tech, B.A., 1985
Washington and Lee University School of Law, J.D., 1988
---

James P. Steele
Washington, DC
Practice Areas
Insurance Coverage
Complex Litigation
Professional Liability
General Liability
Religious Institutions
Appellate Practice
Admitted
District of Columbia, 1995
Maryland
U.S. District Court for the District of Columbia and District of Maryland
U.S. Court of Appeals for the District of Columbia Circuit
Education:
University of Delaware, B.A., 1987
The Catholic University of America, Columbus School of Law, J.D., 1992
---

J. Peter Glaws IV
Washington, DC
Admitted
Virginia, 2012
District of Columbia, 2013
U.S. District Court for the District of Columbia, 2013
U.S. District Court, District of Maryland, 2014
U.S. District Court, Eastern and Western Districts of Virginia, 2012
U.S. Court of Appeals for the District of Columbia and Third Circuits, 2013
U.S. Tax Court, 2016
U.S. Bankruptcy Court, Eastern District of Virginia
Education:
York College of Pennsylvania, B.A. (magna cum laude), 2008
The Catholic University of America, Columbus School of Law, J.D. (cum laude), 2011
Born: 1985
---
Associates
Yasmin Bagha
Gabriela Chambi
Sarah W. Conkright
Charles Frye
Sarah James
Samantha Lewis
Camellia Mokri
Ashley A. Norton
Brian O'Shea
Kimberly Ohanuka
David Schlosser
Hailey Wilkes
Corey Zoldan
---
Of Counsel
Janette M. Blee
William J. Carter
Dennis Chong
Edward J. Krill
---
Articles
Carr Maloney P.C. Member Spotlight
---
Insurance Law Podcasts
---
Service Areas
Baltimore, Maryland, USA 39 miles
Rockville, Maryland, USA 21 miles
Vienna, Virginia, USA 16 miles
Martinsburg, West Virginia, USA 76 miles
---

---
Contact Our Team | About Best's Insurance Professional Resources | FAQs | Important Notice