Best's Recommended Insurance Adjusters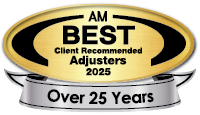 ---

Mailing Address: P.O. Box 6481, Syracuse, NY 13217
Established: 1980
Licensed in New York, Vermont, Connecticut, Maine, Rhode Island, New Hampshire, Delaware and North Carolina.
Services
Automobile (All Lines)
Bonds
Business Interruption
Cargo
Casualty (All Lines)
Commercial and Residential Property
Commercial Fire
Construction Defects
Construction Losses
Environmental Exposures
Fire and Allied Lines
Hail
Homeowners
Inland Marine
Large Loss Commercial
Liquor Liability
Motor Truck Cargo Losses
National Flood Insurance Program Certified
Photographs
Pre-trial Investigations
Product Liability
Property (All Lines)
Settlement Negotiations
Slip and Falls
Subrogation
Trial Preparation
CAT
Video Profile
---
About Us
Fort Orange Claim Service, dba FOCUS, was established May 1, 1980. The company grew quickly to become one of the largest, regional, independent adjusting firms in New York State.

With professional claims people across Upstate New York, Fort Orange Claim Service is large enough to service all of your independent adjusting needs, yet flexible enough to respond to the individual concerns of your company.

When Fort Orange Claim Service represents your company you receive:
• 24 hour service from all locations
• Fully staffed offices
• A company-wide average experience level of over 25 years
• Two hour acknowledgement of loss
• Itemized bills based on a Scheduled or Time & Expense billing
• Dedicated professionals and a "Best in the Business" management team concept to ensure:
-- Immediate contacts - 2 hours or less
-- Timely Reports
-- A superior product upon which the insurance industry has come to rely

---
Additional Locations
---
Professional Memberships
New York Association of Independent Adjusters, Inc.
Syracuse Claims Association
---
Service Area
Serving New York State
---
Personnel Information

Alan W. Young
Branch Manager
Alan began his adjusting career in 1979 accepting a position with GAB Business Services. He held the position of adjuster until he became a Senior Adjuster and Liability Supervisor. After leaving GAB, he was employed by Fort Orange Claim Service as an Adjuster-In-Charge, and promoted to Branch Manager of the Syracuse Branch. He also was an Adjunct Professor of Insurance at Utica College of Syracuse University.
Memberships:
CLM Buffalo
Utica and Syracuse Claims Associations
The SIU Association of New York
Education:
---
Thaddeus Lenkiewicz
General Adjuster
Ted has been in the insurance adjusting field since 1979 beginning as a Multi-line Adjuster with GAB Business Services. He was employed as a Reinspector for CNA Insurance. He became a Loss Control Representative with Mutual Fire Insurance Association of New England, and accepted the position of Senior Examiner with McNeil and Company before joining Fort Orange Claims Unlimited Services in 2005. He is highly experienced in liability investigation, estimating and proficient with Xactimate.
Education:
---

Michael Schell
Michael obtained his higher education degree from SUNY Delhi where he graduated with an AAS in Architecture.
Michael began his career in the mobile/modular home industry where he worked in all aspects of home construction, set up and service. Moving on to an active duty enlistment in the U.S. Army, he performed as a Field Artillery Surveyor and later as a Combat Engineer in the U.S. Army reserves, with deployments to Saudi Arabia and Iraq during Operation Desert Storm and Operation Iraqi Freedom. He performed as a Drill Sergeant for 14 years with the U.S. Army Reserves before retiring as a 1st Sgt in 2013. From Active duty U.S. Army, Michael began a 20+ year career with the New York State Police with postings in Plattsburgh, Morrisville, Herkimer, Tarrytown and Schuyler before retiring as a Sergeant in 2018. Looking for a new career direction after retirement, Fort Orange Claims provided the perfect fit and developmental opportunity. Michael obtained his insurance adjusters license in 2017 and has continued to further his skills with Xactimate training. He is a current member of The SIU Association of New York and CLM.
---
Tom Rao, CPCU
Tom began his adjusting career in 2003. He was most recently employed with James Adjusting, Inc. for ten years. He joined Fort Orange Claim Service, Inc. in 2019. He is highly experienced in handling catastrophe claims.

He graduated with a BA from Syracuse University's Maxwell School of Citizenship and Public Affairs. He has obtained The Insurance Institute of America designations of: Charter Property Casualty Underwriter (CPCU), Associate in Claims (AIC), Associate in Claims Management (AIC-M), Associate in Reinsurance (ARe), and Associate in General Insurance (AINS).

He is also a Haag Certified Roof Inspector for residential roofs and wind damage.
---

Brian Hansen
Brian began his adjusting career in 2007 with Arbitrage Adjusting Services, Inc. where he served as an adjuster in the Albany office. Brian continued his adjusting career with Homesite Insurance and McNeil & Company before joining Fort Orange Claim Service in 2017. Brian's experience with both residential and commercial claims has enhanced his ability to handle claims of all coverage lines. Brian graduated from LeMoyne College with a BA in Criminal Justice. Brian has completed training at Vale Technical School and the ILX Construction Training with Xactware. Brian is also NFIP Certified.
---
Service Areas
Auburn, New York, USA 30 miles
Binghamton, New York, USA 74 miles
Elmira, New York, USA 92 miles
Ithaca, New York, USA 55 miles
Oswego, New York, USA 42 miles
Rochester, New York, USA 88 miles
Watertown, New York, USA 71 miles
---

---
Contact Our Team | About Best's Insurance Professional Resources | FAQs | Qualification Guidelines | Important Notice