Paragon Asset Recovery Services Inc.
Best's Recommended Expert Service Providers - Collections and Subrogation Experts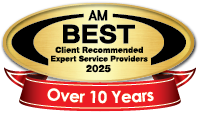 ---
Established: 1994
---
About Us
Paragon helps insurance carriers realize more revenue by reducing claim asset leakage and improving the effectiveness of their claim recovery processes. Our services are designed to improve the success and efficiency of third party deductible (TPD), subrogation and loss sensitive programs.

Using proprietary technologies, predictive analytics and broad industry experience, our services range from historical sweeps for securing missed opportunities to full outsources which maximize recoveries on an ongoing basis.

Third Party Deductibles
Paragon is the third party deductible insurance industry specialist. No other organization has the experience, skill or resources to be as effective as we are. The identification, billing and recovery of TPDs typically go under-managed by insurers. This results in organizations missing out on millions of dollars that are owed to them each year. By focusing on this receivable, Paragon has built experience and knowledge of TPDs that is unparalleled.

Subrogation
SubroIQ is Paragon's answer to the inherent difficulties that carriers face administering subrogation programs. SubroIQ's services are designed to alleviate pressure for our clients that are having difficulty keeping up with increasing file loads, administering systems that aren't designed to support the subro process and managing adjusters that have competing priorities. Any one of these issues alone can lead to both a decrease in subrogation recovery effectiveness and an increase in liability payouts. When taken together, they create an increasingly difficult scenario for carriers to manage. This is where SubroIQ can help.

Our services include Outsourced Subrogation Recoveries, Closed File Clean-Ups, Overflow Solutions for both Subrogation & Arbitration, and the Real Time Identification of missed recovery opportunities. SubroIQ's services have been designed to support all P&C lines of business along with every aspect of the recovery process.

Loss Sensitive Services
Carriers that utilize loss sensitive, risk sharing tools like large deductibles, self-insured retentions and retro premiums tend to face operational challenges stemming from the complex nature of these programs. Paragon has developed a number solutions to help carriers improve performance related to these sophisticated and complex policies. Our services address challenges like those related to ALAE treatment, Clash Deductibles and Deductible Aggregates. Paragon's service also address issues related to multiple calculations such as claim handing fees, Loss Conversion Factors and tax multipliers. Additionally, we create customized invoices and can send e-billings to meet your insured's demands; this includes specialized loss runs and multi-location billings. Paragon's solutions simplify the increasingly complex process of managing large, loss sensitive policies.

Premium Recovery Services
Paragon offers insurers first and second-placement collection services for their uncollected or aged premium audit balances. Unlike other standard collections, premium audits pose unique challenges requiring specific expertise to be effective. Paragon has a dedicated team of insurance collections professionals with an in-depth industry knowledge combined and a high level of customer service focus.
---
Services Rendered
Collections
Subrogation Services
Subrogation Recovery
Subrogation/Reimbursement Outsourcing
Subrogation Audits
Closed File Review
Deductible Recovery
Missed Deductible Analysis
Missed Deductible Clean Up
Ongoing Deductible Administration
Past Due Deductible Collection
Reconciliations
Remittance and Management Reporting
Data Mining
Data Normalization
Claim Scoring
Consulting
System Development
---
Qualifications
Since 1994, Paragon has been working with a wide variety of insurers including multi-national blue chip companies, super-regionals, mutual insurers, personal lines carriers, regional players and specialty carriers. We have experience with primary as well as excess and surplus insurers and have worked with carriers in all different business stages including: start-up, growth, established and in runoff/liquidation. We pride ourselves on being customer-oriented and extremely flexible.
---
Service Area
Servicing All 50 States and Canada
---
(This firm also appears in the Insurance Recovery Specialists section of this publication)
---

---
Contact Our Team | About Best's Insurance Professional Resources | FAQs | Qualification Guidelines | Important Notice