Aspen Claims Service
Best's Recommended Insurance Adjusters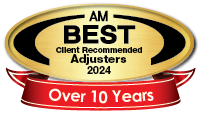 ---
Established: 2008
Qualified Member Since: 2012
Services
24 Hour Service
Allied Lines
Appraisals
Arbitration and Mediation Services
Automobile Liability
Builders Risk
Burglary/Theft
Business Owners
Casualty
Catastrophe
Claims Administration
Commercial
Commercial and Residential Property
Commercial Claims
Commercial Fire
Commercial Liability
Commercial Property
Construction
Construction Defects
Construction Liability
Construction Losses
Contractors Liability
Damage Appraisals
Earthquake
Farm Liability
Fire
Fire and Allied Lines
First and Third Party
First and Third Party Property Damage Appraisals
Flood
Hail
Homeowners
Homeowners Liability
Hurricane
Inspectors
Liability
Local Disasters
Loss Investigations
Mediations
Mobile Homes
Personal and Commercial Property
Personal Damage
Personal Liability
Personal Lines
Physical Damage
Physical Damage Appraisals
Professional Liability
Property
Property (All Lines)
Property Damage
Risk Inspections
Self-Insured Claims Administration
Self-Insured Liability
Self-Insureds
Slip and Falls
Third Party Administration
Tornado
Umbrella/Excess Claim Handling
Underwriting Inspections
Windstorm
---
About Us
Aspen Claims Service is a national claims adjusting firm providing adjusting services for residential and commercial property losses throughout the United States. Our extensive team of tried and proven Field Adjusters and General Adjusters are available for daily and catastrophe claim assignments.

Aspen Claims Service and our network of adjusters are available 24/7 and serve 48 states nationwide handling property insurance claims resulting from hail, wind, fire, snow and ice, hurricanes and tornados to losses caused by man himself.

We have a reputation as an adjusting firm that embraces current technologies and delivers fair and superior quality of service in a timely manner. We service claims for residential, commercial, farm and ranch, mobile home, forced placed, large loss, liability, accident scene investigation, re-inspection, underwriting inspection and branch assistance
---
Firm Highlights
We are the only National Claims Adjusting Partners with a unique Claims Plus Approach™ focused on improving your policyholder satisfaction levels. This exclusive guarantee provides you with:

Nationwide claims adjuster availability ?
Faster claims reporting turnaround times ?
Proactive communications ?
Directly with the policyholder ?
With you on the claims
Strict claims service delivery guidelines ?
Customized solutions to integrate with your systems

You'll also benefit from a dedicated point of contact on our team who is available to address all of your needs. This person possesses the knowledge and expertise to ensure the entire process runs smoothly.
---
How We Offer Value
At Aspen Claims Service, we enjoy the satisfaction of helping others. This mission drives everything we do, and it continuously keeps us striving to establish new standards of excellence in claims adjusting. When we're able to make your life easier and provide a great experience for your policyholders, we consider it a job well done.

To accomplish this goal, we've developed our exclusive Claims Plus Approach™ focused on improving the satisfaction levels of you and your policyholders. We're the only national claims adjusting firm to offer this approach, and it is one of the primary reasons we've become the dedicated partner for many leading insurance companies. We understand the responsibility you have to your policyholders, and we're committed to making sure they are pleased with their service throughout every step of the claims lifecycle.

With reporting turnaround times of 7 days or less, collaborative Service Innovation Sessions™ that help us to serve you better, and clearly defined policyholder claims experience guidelines that establish an extremely high standard, we're continuously working to deliver the exceptional claims adjusting services you count on from a dedicated partner.
---
Software Platforms & Technology Used
---
Personnel Information
---
Additional Links
---
Service Areas
Continental United States
---

---
Contact Our Team | About Best's Insurance Professional Resources | FAQs | Qualification Guidelines | Important Notice