LEIB Solutions, LLC
A Smyyth Company
Best's Recommended Expert Service Providers - Collections and Subrogation Experts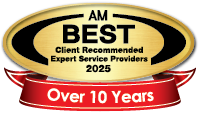 ---
Established: 1986
Qualified Member Since: 2007
---
About Us
At Leib Solutions, we're not just a professional first and third-party collection agency. We're also committed to offering comprehensive P & C insurance collection services for our clients.

Leib Solutions provides Life, Property & Casualty, Business, and Healthcare Insurance collections for major insurers. We can help you reduce your past-due insurance receivables, all while protecting your brand and contributing to your cash flow.

Insurance Premium Collections-Our specialists are well-versed in Property and Casualty Insurance, including insurance premium collections, subrogation, bonds, and deductible collections. We are dedicated to handling all your accounts with an unsurpassed level of care, respect, and integrity.

Insurance Premium Audit-Adjustment Collections-Many insureds, especially those with terminated policies, are confused about their liability for premium adjustments resulting from premium audits. We make sure they understand their liability and collect what is owed so revenues and profits do not slip through the cracks.

Insurance Deductible Collections-Many insureds are confused about their post-claim liability for insurance deductible, which they are obligated to pay. We explain and help the debtor understand this obligation so we can collect the deductibles owed to you and avoid a write-off of revenues and profits.

Insurance Subrogation Collections-Often, profits are lost due to the inability to collect subrogation claims. Our "subro" experts make sure that the collection of subrogation claims is maximized, so the insurance company does not suffer unnecessary revenue leakage.

The Leib Advantage-We have a team that is solely dedicated to commercial insurance collection. This expert staff understands the nature of insurance issues that can lead to disputes and non-payment between insurance and policyholders.
---
Services Rendered
Insurance Premium Collections
Insurance Recovery
Subrogation Recovery
Subrogation Services
Subrogation Support
Bankruptcy Monitoring
Business Owner's Policy (BOP) Premium Collections
Clean Up Backlogs for Revenue, Profit and Working Capital Enhancement
Collection Seminars
Commercial Auto Premium Collections
Commercial Property Premium Collections
Cyber Liability Premium Collections
Deductibles
Delinquent Premiums
E&O Premium Collections
Earned Premium Adjustments
First Party Collections
General Liability Premium Collections
Letter Writing Services
Professional Liability Premium Collections
Subrogation
Subrogation Audits
Subrogation Outsourcing
Third Party Collections
Write-Offs
---
Qualifications
LEIB provides you with over three decades of experience and a reputation for integrity and performance. Our knowledgeable team has experience with many leading P&C carriers and premium finance companies. Robert Leib, Founder of LEIB Solutions, has over 25 years of collection management experience, and has been selected twice as "One of the Top 25 Most Influential Collection Professionals" by Collection Advisor. He has also been honored by Wharton for his entrepreneurship, and was nominated for Entrepreneur of the Year in New Jersey. LEIB Solutions has been named to the prestigious Inc. 500/5000 award for "The Fastest Growing Privately Owned Companies".
---
Professional Memberships
Professional Insurance Agents
International Association of Commercial Collectors
Insurance Accounting and Systems Association
National Association of Subrogation Professionals
Insurance Society of Philadelphia
---
Service Area
LEIB Solutions is a global collection agency
---
Personnel Information
Robert G. Leib, Founder
Carl Torban, President
---
Additional Links
---

---
Contact Our Team | About Best's Insurance Professional Resources | FAQs | Qualification Guidelines | Important Notice