Best's Recommended Insurance Attorneys
General Defense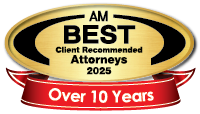 ---

Established: 2004
Practice Areas
Insurance Coverage
Tort Litigation
Property
Casualty
Professional Liability
Motor Carriers
Commercial General Liability
Construction Defect
Environmental Liability
Aviation
Reinsurance
Commercial Litigation
---
About Us
Fields Howell believes that results are defined by client satisfaction. From complex insurance matters to commercial litigation, our team of connected advisors is committed to building long-term relationships with our clients in order to obtain the results they need. For fifteen years, we have invested time in gaining valuable experience and developing a unique market perspective, ultimately creating a powerful source of industry intelligence. Our proven history of problem-solving, professional knowledge, and the ability to provide individualized attention to our clients rank us among the most respected insurance coverage and defense experts in the market.
---
Additional Locations
Miami, Florida
9155 South Dadeland Boulevard, Suite 1012
Miami, Florida 33156
Chattanooga, Tennessee
Republic Centre, Suite 600
633 Chestnut Street
Chattanooga, Tennessee 37450
---
Client Information
Insurance Clients
Non-Insurance Clients
Burns & Wilcox Ltd.
Honda North America, Inc.
Porsche Cars North America, Inc.
Volkswagen/Audi
---
Personnel Information
Partners
Paul L. Fields, Jr.
Atlanta, GA
Admitted
Additional Biographical Details:
Georgia Super Lawyers (2011-2020); American College of Coverage & Extracontractual Counsel, Global Law Experts 2017 Annual Awards Winner; Global R Insurance Coverage Counsel, 2016 & 2017 Client Choice Award
Education:
Wake Forest University, B.A., 1985
The University of Georgia, J.D. (cum laude), 1988
Law Review:
Law Review (1986-1987); Vice Chairman
Honors:
Moot Court Board
---
Robert E. McLaughlin
Atlanta, GA
Admitted
Education:
The University of Georgia, B.A. (cum laude), 1986
Boston College Law School, J.D., 1989
---
Gregory L. Mast
Tennessee Office Representative
Atlanta, GA & Chattanooga, TN
Admitted
Georgia, 2003
Tennessee, 2012
U.S. Virgin Islands, 2019
Additional Biographical Details:
Super Lawyers 2019; Super Lawyers Rising Stars 2011, 2013-2016
Education:
The George Washington University, B.A., 1999
Emory University, J.D. (with honors), 2003
---
Jonathan D. Kramer
Atlanta, GA
Admitted
Education:
Bucknell University, B.A., 1997
Indiana University School of Law, J.D., 2000
---
Ann T. Kirk
Atlanta, GA
Admitted
Illinois, 2003
Georgia, 2006
Additional Biographical Details:
2018 Super Lawyers - Georgia Rising Star
Education:
Emory University, B.A., 2000
Northwestern University School of Law, J.D., 2003
---
Jennifer W. Wolak
Atlanta, GA
Admitted
New York, 2001
Georgia, 2001
Additional Biographical Details:
Super Lawyers Rising Stars 2010-2011
Education:
State University of New York at Buffalo, B.A. (cum laude), 1997
Syracuse University College of Law, J.D., 2000
---
Armando P. Rubio
Florida Office Representative
Miami, FL
Admitted
Additional Biographical Details:
Super Lawyers Rising Stars 2009-2013
Memberships:
International Association of Defense Counsel
Education:
Florida International University, B.A., 1995
University of Miami School of Law, J.D., 2000
---
Samantha L. Rowles
Atlanta, GA
Admitted
Additional Biographical Details:
2018 Super Lawyers - Georgia Rising Star
Education:
University of Wisconsin, B.S., 2004
Emory University School of Law, J.D., 2008
---
Taryn M. Kadar
Atlanta, GA
Admitted
Education:
Elon University, B.A., 2009
Wake Forest University School of Law, J.D., 2013
---
Stephen A. Kahn
Atlanta, GA
Admitted
Michigan, 2010
Georgia, 2012
Alabama, 2013
Additional Biographical Details:
Georgia Super Lawyers Rising Stars, 2020-2021
Education:
University of Michigan - Ann Arbor, B.A., 2007
The University of Alabama School of Law, J.D., 2010
---
Of Counsel
Michael H. Galex
Atlanta, GA
Admitted
Education:
University of Wisconsin, B.S., 1991
Illinois Institute of Technology, Chicago-Kent College of Law, J.D., 1995
---
Tyler Bryant Walker
Atlanta, GA
Admitted
Education:
The University of Georgia, B.A., 2005
The University of Georgia School of Law, J.D., 2008
---

---
Contact Our Team | About Best's Insurance Professional Resources