Best's Recommended Insurance Attorneys
General Defense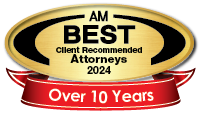 ---

Established: 1992
Practice Areas
Alternative Dispute Resolution
Appellate Practice
Commercial Litigation
Construction
Employment
Energy
Insurance Coverage
Insurance Defense
Premises Liability
Product Liability
Professional Liability
Property Claims
Public Entities
Tort Litigation
Transportation
Workplace & Industrial Safety
---
About Us
With depth of experience in all matters of tort, commercial, insurance and other litigation, Fletcher Farley is dedicated to resolving conflicts and solving problems for our clients throughout the State of Texas. Our practice involves defending, counseling and negotiating on behalf of businesses and public entities. We leverage our extensive experience and skills as trial and appellate attorneys to achieve resolution both inside and outside of the courthouse. Whether in mediation, arbitration, negotiation or courtroom proceedings, Fletcher Farley provides value as a partner in quickly and effectively resolving conflict and allowing our clients to do what they do best -- conduct business.
---
Additional Locations
2530 Walsh Tarlton Lane, Suite 150
Austin, Texas 78746

Telephone: 512-476-5300
Fax: 512-476-5771
---
Client Information
Insurance Clients
AMICA
Chubb Group of Insurance Companies
Gallagher Bassett Services
Non-Insurance Clients
Aon Risk Services, Inc.
Brinker International, Inc.
Chick-fil-A, Inc.
Commercial Metals Company
Golden Corral Corp.
The Hertz Corporation
Hobby Lobby Stores, Inc.
LG Electronics U.S.A., Inc.
Manhattan Construction
PepsiCo, Inc.
Reddy Ice
Ross Stores, Inc.
Salmon Companies
Securitas Security Services USA, Inc.
Southern Star Concrete, Inc.
TASER International, Inc.
Texas Association of Counties
VCC, LLC
Veolia Transportation, Inc.
VeriClaim, Inc.
Western States Fire Protection Company
Zachry Construction Corporation
---
Personnel Information
Partners

Douglas D. Fletcher
Dallas, TX
Admitted
Texas, 1978
U.S. District Court, Eastern, Northern, Southern and Western Districts of Texas
U.S. Court of Appeals, Fifth Circuit
Education:
St. Mark's School of Texas
The George Washington University, B.A., 1975
Southern Methodist University Law School, J.D., 1978
Born: 1953
---

Lane P. Farley
Dallas, TX
Admitted
Texas, 1993
U.S. District Court, Eastern, Northern, Southern and Western Districts of Texas
Education:
Texas A&M University, B.S. (summa cum laude), 1990
The University of Texas School of Law, J.D., 1993
Born: 1967
---

Michael J. Shipman
Dallas, TX
Admitted
Texas, 1983
U.S. District Court, Eastern, Northern, Southern and Western Districts of Texas
Education:
The University of Texas at Arlington, B.S. (with honors), 1979
Texas Tech University School of Law, J.D., 1983
Born: 1957
---

Joanna Lippman Salinas
Austin, TX
Admitted
Texas, 1994
U.S. District Court, Eastern, Northern, Southern and Western Districts of Texas
U.S. Court of Appeals, Fifth Circuit
U.S. Supreme Court
Supreme Court of Texas
Education:
The University of Texas, B.A., 1992
The University of Texas School of Law, J.D., 1994
Born: 1968
---

Fernando "Fred" Arias
Dallas, TX
Admitted
Texas, 2000
U.S. District Court, Eastern, Northern, Southern and Western Districts of Texas
Education:
Texas Christian University, B.A., 1994
St. Mary's University, M.B.A., 1999
St. Mary's University School of Law, J.D., 2000
Born: 1971
---

Paul W. Bennett
Dallas, TX
Admitted
Texas, 1993
U.S. District Court, Eastern, Northern, Southern and Western Districts of Texas
Education:
Austin College, B.A., 1989
Texas Tech University School of Law, J.D., 1993
Born: 1967
---

Craig L. Reese
Dallas, TX
Admitted
Texas, 1990
U.S. District Court, Eastern, Northern, Southern and Western Districts of Texas
U.S. Court of Appeals, Fifth Circuit
U.S. Supreme Court
Education:
The University of Texas of the Permian Basin, B.A., 1983
South Texas College of Law, J.D. (cum laude), 1990
Born: 1957
---
Associates
Jerry E. Alcantara
Alex J. Bell
Derreck M. Brown
Miguel E. Bustilloz
David Colley
C. Ryan Curry
D. J. Hardy
Molly H. Higgins
Kristi L. Kautz
Meredith Livermore
Lauren M. Lopez
Ashley MacNamara
Richard G. Miller
Robin Amy Miserlian
Keith Robb
Jeffrey D. Smith
David I. Solomon
Lorin M. Subar
Brandon Wentworth
---
Of Counsel
---
Additional Links
---

---
Contact Our Team | About Best's Insurance Professional Resources | FAQs | Qualification Guidelines | Important Notice