Law Offices of John C. Lane
Best's Recommended Insurance Attorneys - General Defense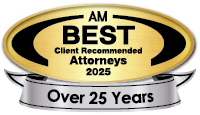 ---
Established: 1997
Practice Areas
Trucking Industry Defense
Transportation
Insurance Defense
Insurance Coverage
Self-Insured Defense
Admiralty and Maritime Law
Construction Defect
Construction Accidents
Employment Law
Product Liability Defense
Premises Liability
Trial and Appellate Practice
Dispute Resolution
Mediation
---
About Us
The Law Offices of John C. Lane is committed to representing our clients aggressively, with the highest levels of competence and attention to detail, with devotion to our clients' needs and to our responsibility to the legal profession, and integrity in all we do.
---
Additional Locations
PMB 46013
140 Broadway, 46th Floor
New York, New York 10005

Telephone: 212-363-8048
Fax: 201-848-6808
---
Client Information
Insurance Clients
Baldwin & Lyons Group
Captive Resources, LLC
Continental National Indemnity Company
Criterion Claim Solutions
Daily Underwriters of America
Motor Transport Underwriters, Inc.
Seaboard Underwriters, Inc.
Sedgwick CMS
W.E. Love & Associates, Inc.
XL Design Professional
Zurich North America
Non-Insurance Clients
A.D. Transport Express, Inc.
Atlantic Container Line
Berger Transfer & Storage, Inc.
BNSF Railway Company
Captive-Aire Systems, Inc.
Cardinal Logistics Management
Cheeseman Transport
Con-way Freight, Inc.
Con-Way Truckload, Inc.
Daily Express, Inc.
Dean Foods
Emery Air Freight
Evergreen America Corporation
Federal Express
FedEx National LTL
Flexi-Van Leasing, Inc.
Hamburg Sud North America, Inc.
Hanjin Shipping Company, Ltd.
Heartland Express, Inc.
Interpool, Inc./TRAC Intermodal
Keen Transport, Inc.
"K" Line America, Inc.
Korea Express U.S.A., Inc.
Kozy Heat Fireplaces
Maersk Container Service Company, Inc.
Maersk, Inc.
Mediterranean Shipping Company (USA)
MV Transportation, Inc.
National Carriers, Inc.
Old Dominion Freight Line, Inc.
RoadLink USA, Inc.
Roadway Express, Inc.
Ruan Transportation Management Systems
Schneider National, Inc.
Trac Lease, Inc.
Transact Corp.
Triple Crown Services Company
Tyson Foods, Inc.
USF Holland, Inc.
Wellington Financial Services, Inc.
E.W. Wylie Trucking
XPO Logistics, Inc.
YRC Worldwide, Inc.
---
Personnel Information
Partners
John C. Lane
Sparta, NJ
Admitted
Virginia, 1971
New Jersey, 1972
New York, 1975
U.S. District Court, District of New Jersey, 1972
U.S. District Court, Eastern and Southern Districts of New York, 1974
U.S. Court of Appeals, Second Circuit, 1975
U.S. Court of Appeals, Third Circuit, 1984
U.S. District Court, Northern District of New York, 1998
U.S. Court of Appeals for the Armed Forces
U.S. Court of Appeals for Veterans Claims
Memberships:
American Bar Association (Tort and Insurance Practice Section; Committees: Construction; Transportation Litigation)
New Jersey State (Sections: Insurance Law; Dispute Resolution) and New York State (Sections: Tort and Insurance; Dispute Resolution) Bar Associations
Virginia State Bar
Defense Research Institute (Committees: Insurance; Trucking; Construction Law)
New Jersey Association of Professional Mediators
Conference of Freight Counsel
Transportaton Lawyers Association (Committees: Motor Carrier Casualty; Freight Claims; TLA ADR Council)
Trucking Industry Defense Association
The Maritime Law Association of the United States
New Jersey Defense Association
Education:
Virginia Military Institute, B.A. (with honors), 1968
Washington and Lee University, J.D., 1971
Fraternity Information:
Delta Theta Phi
Born: 1946
---
Peter C. Bobchin
Sparta, NJ
Admitted
New Jersey, 1990
New York, 1990
U.S. District Court, District of New Jersey, 1990
U.S. District Court, Eastern District of New York, 1992
U.S. District Court, Southern District of New York, 1995
Memberships:
New Jersey State Bar Association (Employment Law Section)
New Jersey Defense Association
Trucking Industry Defense Association
Education:
Pace University, B.B.A., 1985
Ohio Northern University, Pettit College of Law, J.D., 1989
Born: 1963
---
Additional Links
TLA Transportatoin ADR Council Moves Forward
---

---
Contact Our Team | About Best's Insurance Professional Resources | FAQs | Qualification Guidelines | Important Notice