Best's Recommended Expert Service Providers
Insurance Experts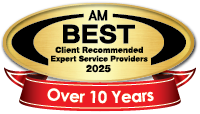 ---
Ringwood Consulting Group, Inc.
Mailing Address: P.O. Box 206, Allamuchy, NJ 07820-0206
Established: 1989
Qualified Member Since: 2003
New Jersey Licenses #8021129 & #9697205
Pennsylvania License #335749
---
About Us
Ringwood Consulting Group provides Litigation Support, Early case review/assessment and Expert Witnesses in Property and Casualty, Life, Health, and Surplus Lines, specializing in:

Agent/Broker Responsibilities and Standards of Care
Agent/Company Relations
Errors & Omissions
Coverage Disputes
Contractual Disputes
Private Arbitration
Mediation
Excess & Surplus Lines
Insurance Underwriting
Program Administration
Forensic Analysis

During the past twenty-nine (29) years, we have handled over six hundred (600) cases, representing both plaintiffs' and defense bars and have had five of our opinions and testimony favorably cited by the Supreme Court of New Jersey and the Appellate Division. We have also served as expert to the New Jersey Department of Insurance and the Attorney General's office on several occasions.

In addition, Frank Seigel, CPCU has testified at depositions and trials over one hundred (100) times.
---
Services Rendered
Standard of Care
Arbitrations
Bad Faith
Business Interruption
Case Consultation
Commercial and Personal Lines Property and Casualty Insurance
Consultant Expert
Continuing Education Credit Courses
Coverage Analysis
Coverage Disputes
Disability Claim Disputes
Disability Insurance
Excess & Surplus Lines
Expert Testimony
Expert Witness
General Liability
Health Insurance
Insurance Agents Errors and Omissions
Insurance Consulting
Insurance Defense
Insurance Disputes
Insurance Litigation Support
Insurance Practices and Procedures
Insurance Premium Collections
Insurance Underwriting
Liability
Life Insurance
Life Insurance Analysis
Litigation Consulting
Litigation Support
Malpractice
Managing General Underwriting
Mediation
Policy Analysis and Interpretation
Premises Liability
Product Liability
Professional Liability
Property and Casualty Insurance Consulting
Risk Management
Subrogation Support
Property Title Disputes
Agent and Broker Responsibilities
Contractual Disputes
Early Case Evaluation/Assessment
Policy Procedures
E&O Audits
Title Insurance
---
Qualifications
Frank Seigel, CPCU has over 45 years of insurance experience, with background in: Underwriting, Program Administration, Agency Management, Agent/Broker/Producer Responsibilities/Standards of Care, Insurance Coverage, Arbitration and Mediation, Excess and Surplus Lines. He has been favorably cited by the New Jersey Superior Court Appellate Division; Licensed in Life, Health, Property, Casualty & Surplus Lines; New Jersey Supreme Court Trained Civil Mediator (R. 1:40 Approval Pending). Mr. Seigel has also testified at trial or deposition over 20 times over the past four (4) years.
---
Professional Memberships
Chartered Property Casualty Underwriters Society
CPCU Society
Professional Liability Underwriting Society
National Association of Professional Surplus Lines Offices
Professional Insurance Agents
Independent Insurance Agents of Essex County, Inc.
New Jersey CPCU Society
New Jersey Surplus Lines Association
Independent Insurance Agents & Brokers of New Jersey
---
Service Area
Serving primarily New Jersey, New York and Pennsylvania. Experts have testified in trial and/or deposition in State Courts in New Jersey, New York, Pennsylvania, Indiana, Alabama and Illinois, and have been retained as insurance experts also in Montana, Oklahoma and Texas. Federal Courts include: U.S. District Court, District of Maryland, Federal District Court, Third Circuit, U.S. District Court, Southern District of New York, U.S. District Court, District of Minnesota, Federal District Court, Western District of Pennsylvania, U.S. District Court, Eastern District of Pennsylvania, U.S. District Court, District of Montana (Missoula Division), U.S. District Court, Northern District of Alabama
---
Personnel Information
Founder & President
Frank Seigel, CPCU
Years of Experience: 46
Practice Areas
Property and Casualty
Surplus Lines
---
Firm Members & Associates
Catherine Trischan, CPCU, CIC, CRM, AU, AAI, CRIS, ARM
Years of Experience: 31
Practice Areas
---
Charles W. Bowden, CLU, ChFC
Years of Experience: 30
Practice Areas
Life and Health
Disability
---
Steven D. Lyon, CPCU, CIC, ARM, AAI, CRM, CRIS
Practice Areas
---
Associate
Robert Mallon
Years of Experience: 32
Practice Areas
Title Insurance
Underwriting
---
High Profile Cases
Goldstar v Underwriters at Lloyd's London, et al, v. Insurex; Piermont Iron Works v. Evanston; Harrington v. Sikora; ARC Family v. Ralph Parnes; Martinez v. Atlas Builders, Inc., et al v. Insurance Corporation of Hannover, et al; OCN-L-2868-05, 3133-07 - Summary Judgment Motion
---